Fun Jumps Baton Rouge

Looking for a great party activity for your little ones? Then you should call us for fun jumps Baton Rouge kids love to play in. At Livingston Party Rentals, we have the best selection available so there is no need to keep shopping around. All our Baton Rouge fun jumps are guaranteed to be commercial-grade, clean, and safe for use each and every time. We are a family-run company with nearly two decades of customer service experience in the party and event rentals business, so we take great pride in providing premium-quality rentals at affordable prices that all can enjoy. We are fully insured for your peace of mind, and our knowledgeable team is dedicated to assisting you as you plan your perfect party. Whether you need the perfect fun jumps Baton Rouge or other rental items, we have all that you need for your next party or event. Because we are a full-service party rental supplier, we can offer everything from table and chair rentals and party tents to water slide rentals and concessions. We are sure to have everything you need to plan your next event or party!

There is nothing more fun for kids at a party than a fun jump! Livingston Party Rentals has dozens of options to choose from. Because we have so many families as customers, we know how kids light up at the sight of a fun jump going up in the yard! And parents can breathe a sigh of relief knowing that their children have a safe and fun way to exhaust their energy and keep busy during a party. Whether you are planning to host a birthday party for a small group of kids in your backyard or have a large-scale school function in mind with hundreds of people, you can trust the team at Livingston to help make sure that you have the right fun jumps Baton Rouge needs to experience a great time!
The Largest Baton Rouge Fun Jump Selection to Choose From
At Livingston Party Rentals, we do not have just a few options of bounce houses to choose from, we offer dozens of themes and characters. You will always get to choose from a wide selection of sizes and party themes, making sure you have just the right one to perfectly complement your party. We love a great party and specialize in all kinds of parties throughout the Greater Baton Rouge area! There are many types of parties that call Baton Rouge fun jump including:


Shop All Fun Jumps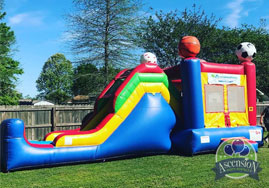 Birthday parties


Anniversaries


Graduations


Festivals


Tailgates


School functions


Church parties


Corporate celebrations


Bar/Bat mitzvah


Weddings


And so much more


No event type is off-limits to utilize our rentals! If you know that kids will show up at your event, please take our advice and make sure they have a great area to have fun! We all know that there is nothing more exciting than a fun jump!
Fun Jumps Made Easy For You


No matter if you call them fun jumps, spacewalks, or bounce houses, we can make your rental experience quite easy. Our process will easily allow you to secure a fun jump for your next party or event. Our valued team of industry experts can help you select the fun jump Baton Rouge needs to get the party started and keep it going all day long. From character bouncers that will match your theme perfectly to more traditional-looking basic bounce houses that work with any motif, we will help you get set up with whatever you need.
Ready to get the party started? You can reserve your Baton Rouge fun jump with just a few clicks whenever it is convenient to you using our easy online ordering system.
Simply choose:
Your event date.
Select your party rentals.
Then add to cart.
Click checkout.
It is really that simple! Remember that we have an inventory of a wide variety of party rentals including water slide rentals, table and chair rentals, concessions, dunking booths, and more! So be sure you get everything you need to plan your perfect day.